Last Friday I was fortunate to be able to attend the Physiotherapy Works Locally event as part of the East Midlands Regional Network. I have been asked by the network to be a core part of the committee. This will hopefully allow me to build some momentum with social media and help get students and newly qualified members involved. This will aid the discussion regarding key decisions about the region and society which can be fed back to council. The Physio Works locally event was a joint event between East Midlands and Yorkshire/ Humber  Regions. The event was a fantastic success with a lot of social buzz and pledges being made.
Photos from Anne Jackson CSP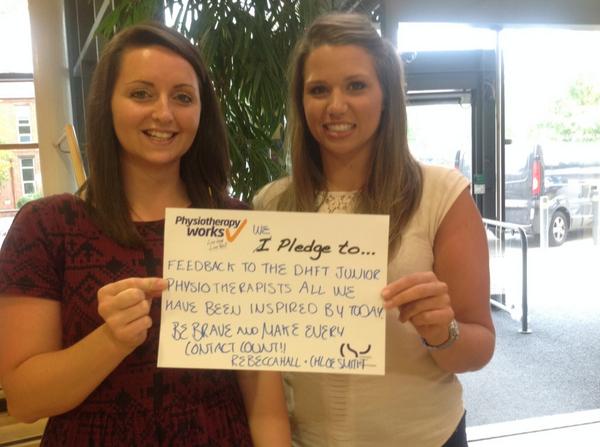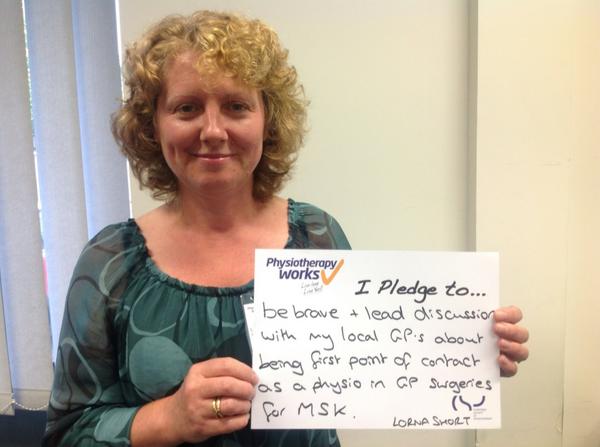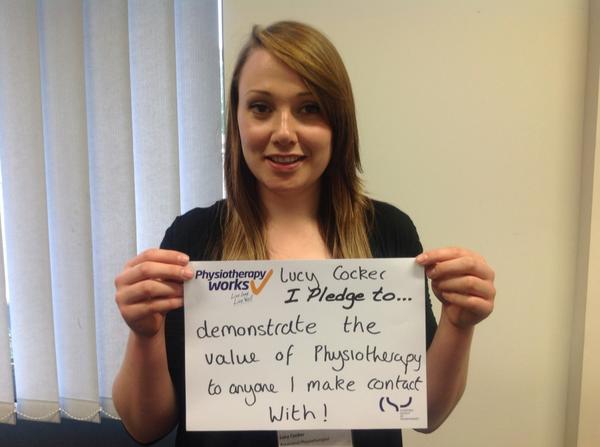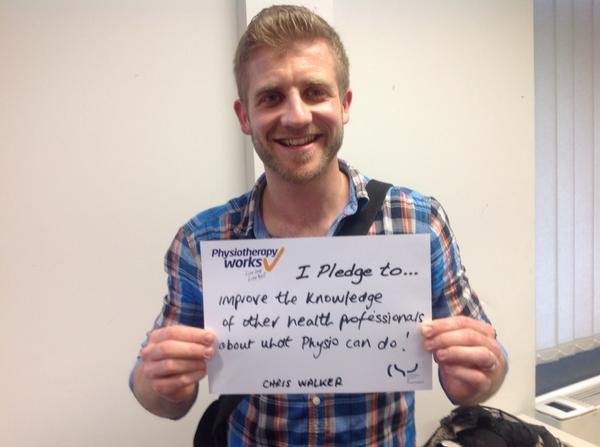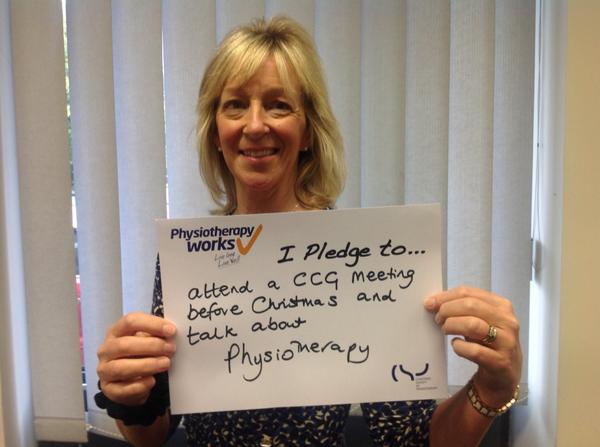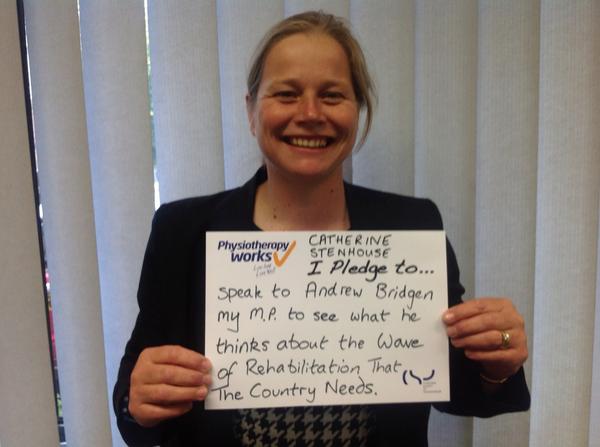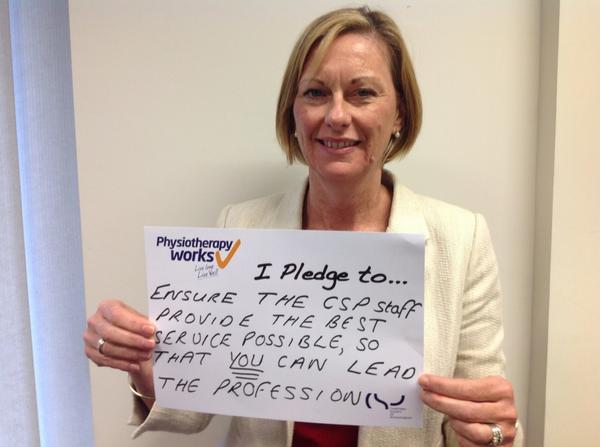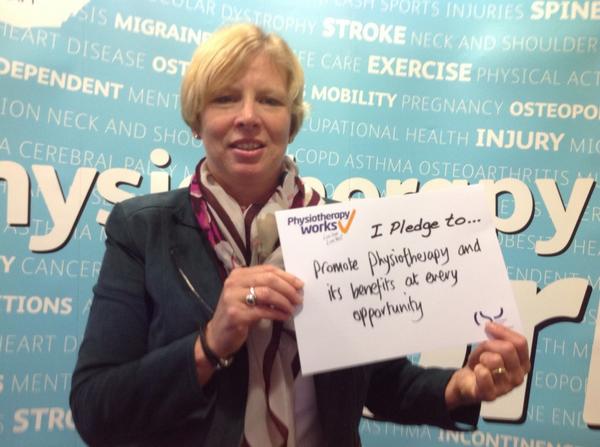 The event kicked off with Karen Middleton CEO of the Chartered Society of Physiotherapy giving a talk on: "The Case for Change"
Whenever I listen to a speech by Karen I feel so empowered, I want to run outside and tell everyone how fantastic we are as Physiotherapists and that we can really make a difference to peoples lives. Her talk was powerful and to the point. She said that we as Physiotherapists need to start talking about the benefits of Physio before we miss out on our golden opportunity. The health climate in 2014 is creating an environment where people are living longer. This creates a society with patients with more long term conditions and people needing to be fit for work for longer.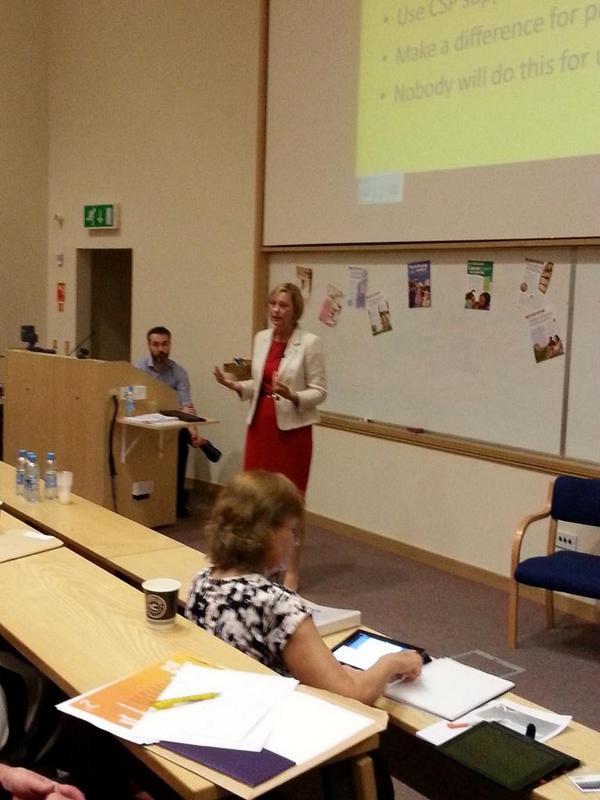 Physiotherapy can influence all of these groups!!
So what are you going to do about it?
The quality of a service is essential to achieve positive outcomes. We need to be effective, collect outcomes, safe and develop positive patient experiences.  However, how are we going to do this? We have less money available and a dependent medicalised society. So what innovative ideas can we take forward? The profession of physiotherapists is far too modest regarding what we can bring to the table in terms of healthcare. Overcoming this apprehension will enable us to take our ideas forward and make them reality before it is too late.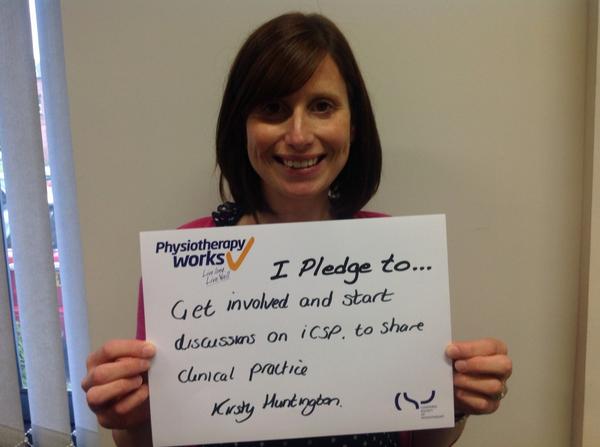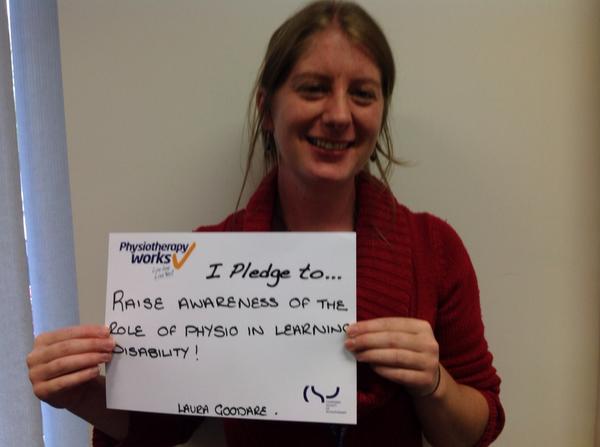 So here are few of the things Karen suggested we should be doing:
See opportunities and take them.
Realise our potential as leaders.
Come of age as autonomous practitioners.
Use CSP support, materials and tools.
Make a lasting difference to patients.
Nobody will do this for us.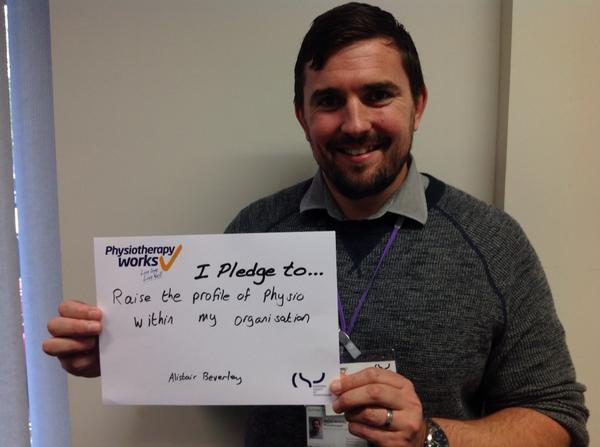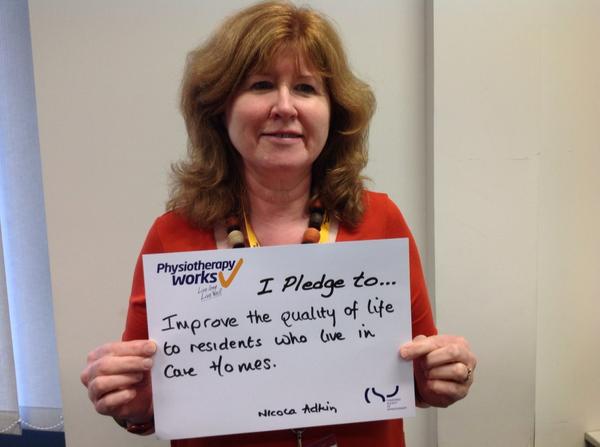 So some tips:
Be flexible.
Connect, build, link and network!!!!
Think ahead and talk solutions.
Know how local decision makers think.
Use the evidence.
Show our impact through data collection.
Talk about money as well as outcomes.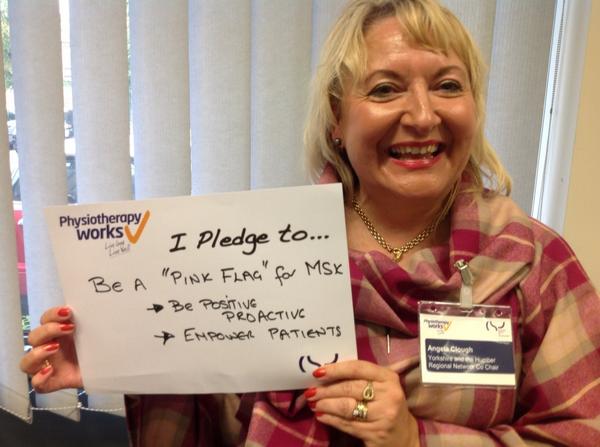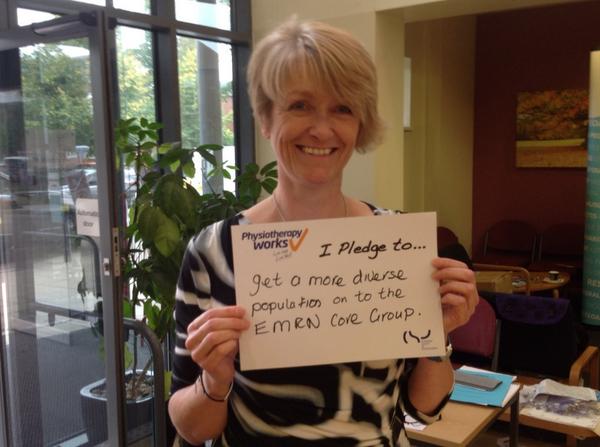 Action Point:
Think about becoming a pioneer for Physiotherapy Works –  for more information:
Web: www.csp.org.uk/physioworks
Twitter: #physioworks
Email: physioworks@csp.org.uk 
So what?  Now what? What difference does it make? Be Brave, Physiotherapy Works.
---
Change is the Only Constant- Alison Hughes NHS ENGLAND
Alison Hughes was another fantastic speaker of the day. She is currently Director of West and South Yorkshire and Bassetlaw Commissioning Support Unit.  She was initially a physiotherapist and an advocate for clinicians leading the NHS. As physiotherapists we are ideally placed to lead. We are able to diagnose, listen, work as an individual and as a team.
However the change you want to see starts with you!
And you need to be clear on what success looks like.
To me success looks like : Everyone in the general public knows what a Physiotherapist is and what they can do.
What are your barriers to change?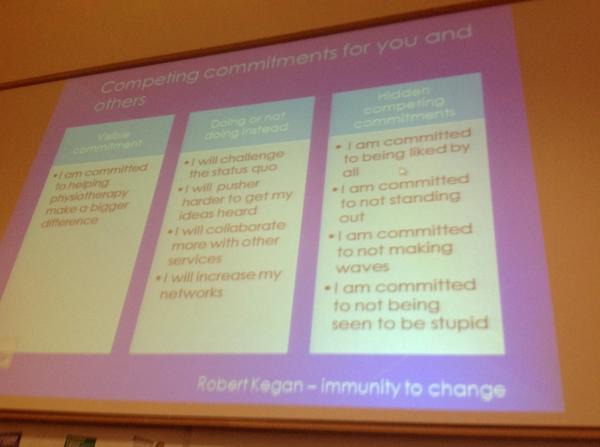 I thought this image summed up a lot of clinicians anxiety to change. Mostly due to hidden barriers created by a Top down  organisational structure created by management. To overcome this we need  to be brave and inform management of the challenges faced by front-line staff and the solutions to overcome these difficulties (this may be where physiotherapy comes in)
Alison referred everyone to a book by Robert Kegan- Immunity to change. Which links to the image above. http://www.amazon.co.uk/Immunity-Change-Potential-Organization-Leadership/dp/1422117367 n
When planning a strategy for change, below is a great diagram to help you organise your contacts so that you target certain individuals to help promote specific campaigns.
Importance of Stakeholders

Influence of Stakeholder

Unknown

Little/ No importance

Moderate

Significant

Unknown
Little/ No importance
Moderate
Significant
So in summary:
In creating change we need to clarify what success looks like.
Set realistic goals
Grow and use the support you have.
Understand stakeholders
Understand hidden competing commitments for yourself and others.
---
Physiotherapy Works- Make Every Contact Count. Knowing Your Service.
The principles of this focused on:
The context of change
Knowing your Service
Knowing your Population
Knowing your Evidence.
Know where you fit in our healthcare system.
Knowing your service
Quality is based on:
Effectiveness
Patient Experience
Patient Safety
+COST
Quality +COST= Value.
The CSP is developing tools to give bite size pieces of evidence to show the value of Physiotherapy. This will be based on for every £ spent on Physiotherapy will save the NHS…. compared to without. The cost of Falls Tool will be launched alongside Older Peoples Day on the 1st October 2014 (and more to follow).
Knowing your Population
A population is made up of – current users of the service and future users of your service.
Accessing Health Profiles can give you  information regarding the demographics and problems in your region.
http://www.apho.org.uk/default.aspx?QN=P_HEALTH_PROFILES
Knowing the Evidence
Published research
National guidance
Local data- audit, patient experience, satisfaction, outcome, KPI's
Other
This can be used to challenge the status quo!
There was a great emphasis on developing your service and having your elevator pitch in mind, so if you were stood next to a commissioner in a lift you could quite happily deliver your message.
My service is…
Delivers to this population…
Based on this Evidence…
At this price!!
So you might be thinking where do you go from this… So the next steps might be..
Why do you need to change?
What will you do differently?
When?
How can you improve?
Who will you influence?
This will give you a starting point for change !
---
In the afternoon the Physio Works team did a great job in setting up mini workshops to get us thinking about innovative ideas which could form part of our future NHS!  We looked at regional health profiles, developed  ideas and then presented them to the group. There were some great ideas being thrown around the room and it was an effective way which made everybody feel ready to go and talk about how versatile the profession of Physiotherapy really is.
The East Midlands (@CSPEastMidlands) and Yorkshire and Humber (@CSPYorksHumber) Regional Networks did a great job in organising the event and are always looking for more members to attend regional meetings, I would actively encourage you to attend. More information can be found here:
http://www.csp.org.uk/nations-regions/east-midlands
http://www.csp.org.uk/nations-regions/east-midlands-regional-priorities
http://www.csp.org.uk/nations-regions/yorkshire-humber
http://www.csp.org.uk/nations-regions/yorkshire-humber-regional-priorities
http://www.csp.org.uk/your-health/physiotherapy-works
Thank you again for taking an interest in my blog. As always please feel free to leave a comment below or tweet me @LCphysio.
Finally the first part of my campaign was to get my Mr to make a pledge!